Latgalian for beginners / Latgalīšu volūda suociejim
Jauna i lela saime / A new family

Piec koncerta jī brauc iz Inarys bruoļa sātu. Inara sataisa gorda čaja, i vysi sasasāst ap goldu.
– Khem, khem, – Odums īsakuosej kai pyrma tosta. – Tai kai nagaideiti asam šudiņ sasatykuši, maņ deļ jiusu ir puorsteigums. – Odums izjam nu krakla kuldys viestuli i suoc skaiteit:
"Loba dīna, Odum!
Beju eistyn purosteigta par Tovu viestuli. Seņ naasam ar Tovu babeņu redziejušuos, pasveicynoj jū. Ka veseleiba turēsīs, raudzeišu pi juos dreiži nūbraukt gostūs.
Atsoku iz Tovu vaicuojumu – nui, es asu Māreite Pūrmale, niu Santosa. Kod atbraucem iz ASV, tēte dreiži viņ palyka navasals i nūmyra, bet mamai nabeja juo radinīku adrešu. Tai saikne ar tētis rodim izgaisa. Paļdis Tev par tū, ka atrodi munus tyvinīkus! Sveicynoj Inaru i Viktoru!
Māreite Riodežaneiro
Odums pasaver apleik. Inarai acīs ir osorys, i juos bruoļs smaida.
– Tys eistyn ir breineigs puorsteigums, – soka Inara. – Paļdis tev! – Jei apčer Odumu.
– Paļdis Agneškai par tū, ka savede myus vysus kūpā! – soka Gundega.
Agneška klusej i smaida. Jai ir sajiuta, ka ite, Latgolā, jei ir tykuse pi vīnys lelys i kuorteigys saimis.

After the concert, they go to Ināra's brother's house. Ināra makes lovely tea and they all sit around the table.
'Ahem, ahem.' Odums clears his throat, as though before a toast. 'We met unexpectedly today, and I also have a surprise for you.' Odums takes a letter from his shirt pocket and starts to read.
'Hello Odums!
'I was truly surprised by your letter. I haven't seen your granny for a long time, send her my greetings. If my health allows it, I will try to visit her soon.
'To answer your question – yes, I am Mārīte Pūrmalis, now Santos. Pretty soon after we arrived in the USA, my dad fell ill and died, and Mum didn't have the addresses of his relatives. So we lost contact with my dad's family. Thank you for finding my relatives! Regards to Ināra and Viktor!
Mārīte in Rio de Janeiro'
Odums looks around him. Ināra has tears in her eyes, and her brother is smiling.
'That truly is a real surprise,' says Ināra. 'Thank you!'
She hugs Odums.
'Thanks to Agnieszka for bringing us all together,' says Gundega.
Agnieszka remains quiet, but smiles. She has the feeling that here, in Latgale, she has found herself a family.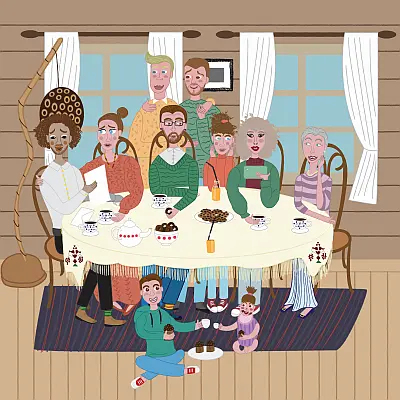 Vysys nūdalis / All chapters