Latgalian for beginners / Latgalīšu volūda suociejim
Kas juojam leidza? / What do we need?

Viktors planavoj saimis ceļuojumu iz Sanktpīterburgu augusta beiguos. Jī brauks gostūs pi Viktora muosas Klarys. Viktora bārni sēd sūpluok i klausuos. Kai mes brauksim? Pyrma – ar autobusu iz Reigu, tod – ar viļcīni iz Sanktpīterburgu. Sanktpīterburgā byus metro. Kas ir metro? "Bārni, ejit āstu!" sauc Inara nu vyrtuvis. "Sanktpīterburgā byus leits," jei soka, "vajag leita sorgu i leita mieteļu." Viktors tiuleņ pierks beletus, bet tod jis īrauga viestuli nu Gundegys.

Viktor is planning a family trip to Saint Petersburg at the end of August. First, they will go to Viktor's sister Klara. Viktor's kids are sitting nearby and listening. How will we go? First – by bus to Riga, then – by train to Saint Petersburg. There will be a metro in Saint Petersburg. What's a metro? "Kids, come eat!" Ināra calls out of the kitchen. "It will rain in Saint Petersburg," she says, "we will need umbrellas and raincoats." Viktor is about to buy the tickets, but then he sees Gundega's letter.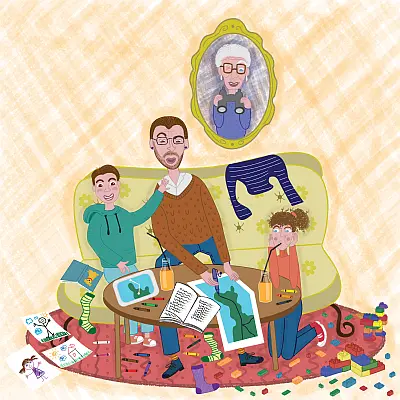 Vysys nūdalis / All chapters