Latgalian for beginners / Latgalīšu volūda suociejim

Gundega nūroksta gorduo čaja recepti. Jei ir atsapyutuse i paāduse. Ir atguojs laiks dūtīs apsavērt Daugovpili.
– Voi varit īsaceit kaidu lobu driebu veikalu, – Gundega vaicoj Inarai i Viktoram.
– Inara jums paleidzēs, – soka Viktors. – Es īšu iz darbneicu. Voi par krāslu asam sarunuojuši?
– Nui, gaideišu tāmi i fotografejis, – soka Gundega. – Paļdis jums, Viktor! Beja prīca īsapazeit ar jums i jiusu breineigū saimi.
Gundega apčer Viktoru. Viktoram nav nikas preteimā, i jī sirsneigi atsavasaloj.
Kod Inara i Gundega palīk divejuos, juos suoc apsavērt katalogu, kuru Inara paruoda Gundegai.
– Munys draudzinis nu Reigys brauc pi myusu pierkt itū veļu, – soka Inara.
– Eistyn? – Gundega breinuojuos.
– Nui, tei ir lāta i kvalitativa.
– Kur taidu var nūpierkt?
– Īsim, – Inara pīsaceļ kuojuos. Ari Gundega pīsaceļ.
Obejis sīvītis jautri runoj i staigoj pa Daugovpili. Juos īt iz velis veikalu i iz cytim veikalim i apsaver Daugovpiļs centru. Tod Inara pavoda Gundegu iz autobusu. Gundega brauc iz sātu.

Gundega copies down the recipe for the lovely tea. She feels relaxed and has eaten well. It's now time to go and take a look around Daugavpils.
'Could you recommend an interesting clothes shop?' Gunara asks Ināra and Viktor.
'Ināra will help you,' says Viktor. 'I'm going to the workshop. Have we come to an agreement about the chair?'
'Yes, I will be waiting for the quote and photographs,' Gundega says. 'Thank you, Viktor! It was a pleasure to meet you and your wonderful family.'
Gundega gives Viktor a hug. Viktor doesn't mind this, and they warmly take their leave of each other.
When Ināra and Gundega are alone, they start to go through a catalogue which Ināra shows to Gundega.
'My friends from Riga come here to buy this lingerie,' says Ināra.
'Do they really?' Gundega marvels.
'Yes, it's cheap and high-quality.'
'Where can I buy it?'
'Let's go.' Ināra gets to her feet. Gundega does the same.
The two women walk through Daugavpils, talking cheerfully. They go into a lingerie shop, as well as some other shops, and have a look around the centre of Daugavpils. Then Ināra takes Gundega to the bus station, and Gundega goes home.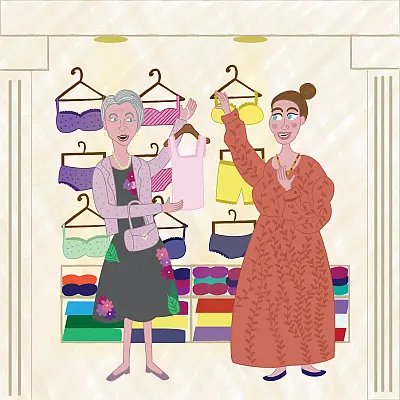 Vysys nūdalis / All chapters