Latgalian for beginners / Latgalīšu volūda suociejim
Vysi sasateik Latgolā / Everyone meets up in Latgale

Pyrma koncerta Odums pi "GORA" īejis gaida Agnešku. Jis ir sasapuciejs boltā kraklā i malnuos iuzuos. Odums verās apleik i navar mīreigi nūstuovēt.
– Vasals, Odum!
– Loba dīna! – Odums nūpītni nūškolda.
– Īsapazeisti, itī ir muni draugi Gundega, Viktors i Inara!
– Voi eistyn Viktors i Inara? – Odums breinojās.
– Nui, tī asam mes, – smejās Viktors. – Agneška sataiseja puorsteigumu deļ myusu vysu.
– Loba dīna, Gundega! – soka Odums.
– Loba dīna, Odum! Prīcojūs īsapazeit! Agneška maņ par tevi ir daudz stuostejuse, – Gundega soka i pīmīdz ar aci. Odums nūsorkst, bet tuo nivīns napamona. Agneška vysus vad iz koncertu.

Before the concert, Odums is waiting for Agnieszka at the entrance to GORS. He has dressed up in a white shirt and black trousers. Unable to stand still, Odums is looking around him.
'Hi, Odums!'
'Hello,' Odums formally replies.
'Please meet my friends, Viktor and Ināra!'
'Are they really Viktor and Ināra?' Odums says in wonder.
'Yes, that's us,' Viktor laughs. 'Agnieszka has brought surprises for all of us.'
'Hello Gundega,' says Odums.
'Hello Odums! Pleased to meet you! Agnieszka has told me lots about you,' Gundega says, and winks at him. Odums blushes, but no one notices. Agnieszka leads them all into the concert.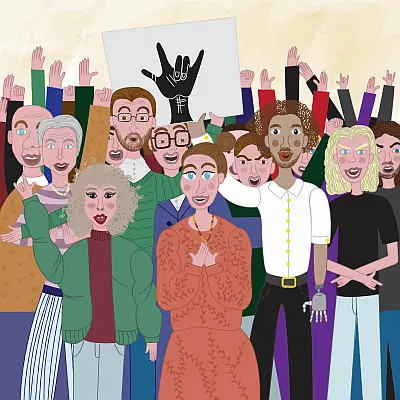 Vysys nūdalis / All chapters