Latgalian for beginners / Latgalīšu volūda suociejim
Tigrim garšoj rūkys / Tigers eat arms

Par tū, ka tigrim garšoj rūkys, es izzynuoju, kod tikkū suoču struoduot zooduorzā. Es beju duraks. Deļtuo ari palyku bez rūkys.
Odums ir sasatraucs, partū ka nazyna, kai Agneška reagēs iz iztuos viests.
Agneška tik cīši jiut leidza Odumam, ka jei gondreiž suoc rauduot.
Kai tu niu jiutīs? Kai varieji atsagrīzt dorbā i turpynuot struoduot ar tigrim?
Tai kai Agneškys vaicuojumi Odumam ruodīs draudzeigi, jis spiej pat pajūkuot:
Nūsprīžu turpynuot vērtīs acīs brīsmei. Bet, ka nūpītni, tei beja muna vaine. Beju puordrūss i ignorieju dažus nūsacejumus. Piec tam palyku gudruoks, gribieju īsavuiceit struoduot ar tigrim. I maņ tys izadeve!
Prīcojūs dzierdēt! Iz prīšku, lyudzu, vaira nabaroj tigrus ni ar rūkom, ni ar kuojom, ni ar golvu! 😀
Svāti apsūlu! 😅

I found out that tigers like to eat arms just after starting to work at a zoo. I was an idiot. And so I lost my arm.
Odums is worried, because he doesn't know how Agnieszka will react to this message.
Agnieszka feels so sorry for Odums that she almost starts crying.
How do you feel now? Were you able to return to work and continue working with tigers?
As Agnieszka's questions seem friendly to Odums, he is even able to joke about it.
I decided to continue looking danger in the eyes. But, if I'm serious, it was my fault. I was foolhardy and ignored a number of rules. After that I got smarter – I wanted to learn how to work with tigers. And I managed to do it!
I'm glad to hear it! In future, please don't feed your arms to tigers – or your feet, or your head! 😀
I solemnly swear!' 😅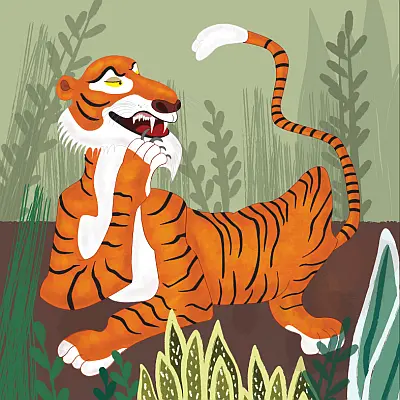 Vysys nūdalis / All chapters