Latgalīšu volūda suociejim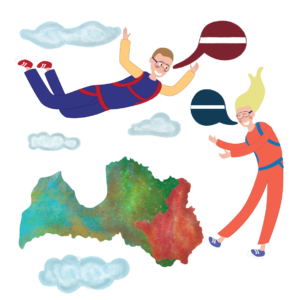 Here you can find audio materials for learning the Latgalian language. You can use them alone to train listening and reading skills, or in combination with the Latgalian textbook for beginners (to be published autumn 2022).
This course is created for the beginners with the following skill levels: A1, A2, B1.
What will you learn in this course?
The aim of the audio material is to give learners the possiblity to develop their skills in reading and listening Latgalian with English language as a basis. The material is useful for beginner and intermediate level (A1-B1 according to CEFR). Thanks to the translations, you can easily check the meaning of unknown phrases while reading or listening. Additionally, you can train your pronunciation, by pausing the recording and repeating words, phrases, or sentences.
Thanks to the support from Latvian State Culture Capital Foundation, Latvian State Forests, and the Latgale Region Development Agency within the framework of the Latgale Cultural Program 2020 and 2021, this course is free of charge.
With the desire to contribute to the preservation of Latgalian, the lesser used of the two written traditions of Latvian, we have created material for learners of the language, thinking about young people and adults both in Latvia and elsewhere in the world. Based on a communicative approach to language learning, in this material we have paid special attention to the social aspect of language use – the modern Latgalian language, as it's spoken today.
The textbook is to be published in summer 2022, but here you find all the audiofiles, recordings of the texts in the book following the four main persons in our story – Odums, Agnieszka, Viktor and Gundega, as well as chats on a (fictive) Latgalian dating app. All texts ar accopagned with translations into English. In addition to that, there are some tasks to train listening skills.
Each of the 24 main texts are given in two versions – a shorter for beginners and a longer one.
Listen to the sound of the language, stop the recording to train the pronuncuation, read and learn through the parallel texts!
In addition, you can use the Latgalian-English dictionary – Vuordineica – in the learning process. Please note that it is still under development!
There have been several persons connected to this project. The material has been developed by House of Languages (Valodu māja / Volūdu sāta) and is based on an idea of Snorre Karkkonen Svensson. The storyline has been written by the fiction authors Ilze Jansone and Elīna Kokareviča. Author of the Latgalian version is Māra Mortuzāne-Muravska. Will Mawhood has translated the texts into English. The audio production is made by Reiga Productions under the lead of Kristaps Rasims.
Please, get in touch with us if you have comments, suggestions, or corrections.
Vysys nūdalis / All chapters