Latgalian for beginners / Latgalīšu volūda suociejim
Babeņas dzimšonys dīna / Granny's birthday

Ir sastdīne. Uorā korsts, bet Odumam tys natraucej. Jam ir breivdīna, i jis ir prīceigs – šudiņ ir juo babenis dzimšonys dīna! Parosti jī sēd duorzā ap opolu goldu. Babeņai ir torte, i jei pyuš svecis. Tū jei cap piec sovys saimis receptis. "Ak, ituos soldonuos latgalīšu sātys tortes ar zapti," Ludis atguodoj i aplaiza lyupys. Tod jis suoc dūmuot par babys saimi. Babeņa ar sovu tēti i mamu emigrēja nu Rēzeknis Ūtruo pasauļa kara laikā. Babeņai beja viņ 11 godu. Juos mama beja populara konditore, i meitai palyka juos receptis. Babys tēte, Oduma vacvactāvs, struoduoja par mežkūpi.
– Cik sovaiži, – Odums dūmoj. – Kai tys ir – kūpt mežu. Asu tigru kūpiejs. Muna mama ir veterinaruorste, bet tēte – gleznuotuojs! Interesanti, kai tys ir – apstruoduot zemi, kūpt mežu…
Babenis saime nūbrauce iz Vuoceju, bet tod – iz ASV. Par saimis dzeivis vītu palyka Teksasa, kur dzeivoj ari Odums. Jis guļ iz divana. Tai jis izbauda breivū dīnu. Bet jis naslynkoj! Jis grib lobuok īsavuiceit latgalīšu volūdu. Jū interesej juo saimis viesture, i jam ruodīs, ka volūda paleidz jū īpazeit. Jis jau izmontoj latgalīšu īsapazeišonys aplikaceju i čatoj ar Agnešku. Agneška ir nu Pūlejis, bet runoj latgaliski cīši labi. Tod Odums interneta maklātuojā īroksta "latgalīšu volūda, vuiceitīs".
– Interesanti!

It's Sunday. It's hot outside, but this doesn't bother Odums. He has a day off, and he's happy – today is his granny's birthday. Usually when it's her birthday, they sit in the garden around a round table, Granny has a cake and blows out the candles. She bakes the cake from a family recipe. 'Oh, those home-made Latgalian cakes with jam.' Odums remembers and licks his lips. Then he starts thinking about Granny's family. Granny emigrated from Rēzekne with her mum and dad during the Second World War. She was just 11 years old. Her mum was a popular confectioner, and her recipes stayed with her daughter. Granny's dad, Odums' great-grandfather, was a forester.
How strange, thinks Odums. What would that be like – to take care of a forest? I'm a tiger keeper. My mum is a vet, and my dad is a painter. It would be interesting to know what that would be like – to work the land, to look after a forest…
Granny's family first arrived in Germany, then went to the USA. Their place of residence became Texas, where Odums lives too. He is laying on the sofa – he enjoys doing that on his days off. But he's not being lazy! He wants to improve his Latgalian. He's interested in his family history, and he thinks that the language will help him to become more familiar with it. He has already used the Latgalian dating app to chat with Agnieszka. Agnieszka comes from Poland, but speaks Latgalian very well. Odums writes 'Latgalian language, learn' into the search engine.
Interesting!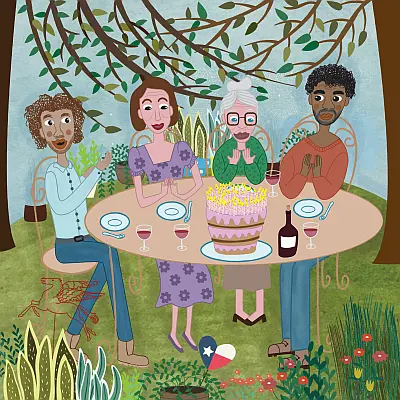 Vysys nūdalis / All chapters