Latgalian for beginners / Latgalīšu volūda suociejim

@martux: Lobys Tev nakts!
@lieneliene: Ceru, variešu aizmigt. 😞
@martux: Kas nūtics?
@lieneliene: Cīši suop golva.
@martux: Parkū?
@lieneliene: Maņ ir migrena. Vysmoz reizi nedeļā cīši suop. Cytom reizem ir ari naloba dūša.
@martux: Oi, cik žāļ! Itamā ziņā maņ ir pasaveics – maņ nav nikaidu hronisku slimeibu. Vīnenigi maņ bīži ir īsna.
@lieneliene: Fui, īsna! Tei maņ rībās gondreiž tikpat cīši kai golvys suopis. Labi, lai tev loba nakts! Tev juoatsapyuš! 😊
@martux: Ha-ha, paļdis!

@martux: Good night!
@lieneliene: I hope that I'll be able to sleep. 😞
@martux: What's up?
@lieneliene: I've got a bad headache.
@martux: Why's that?
@lieneliene: I get headaches. At least once a week my head really hurts. Sometimes there's also nausea.
@martux: Oh, I'm so sorry. In that respect I'm lucky – I don't have any chronic illnesses. I just often get colds.
@lieneliene: Yuck, colds! I hate them almost as much as headaches. OK, good night! You should relax! 😊
@martux: Haha, thanks!

@lieneliene: Pasaver, kaida maņ lela rūka!
@agniezska: Nā, nav jau nicik lela, izaver normala. 😂 Parkū tev ruodīs, ka tei ir taida miļzeiga?
@lieneliene: Maņ vīns puiseits šudiņ bārnuduorzā tai saceja! 😂😂😂
@agniezska: Ha-ha! Jis tok saleidzynuoja ar sovejū. 😃 Lobuok pasaver, maņ pāds kai monstram!

@lieneliene: Look how huge my hand is!
@agniezska: No, not huge at all, it looks normal. 😂 Why do you think that it's huge?
@lieneliene: At the kindergarten today a little boy told me that it was! 😂😂😂
@agniezska: Haha! But he's comparing it with his own hand. 😃 Look how huge my foot is!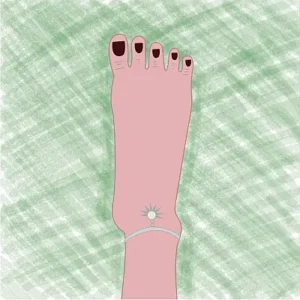 @lieneliene: Hm, maņ ruodīs, ka nimoz tik lels. Saleidzynoj ar koč kū!
@agniezska: Vei, kai ir niu?

@lieneliene: Hmmm, it doesn't seem huge to me. Compared with what?
@agniezska: Take a look now!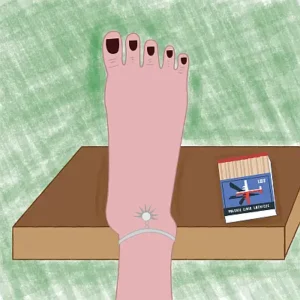 @lieneliene: O nui, niu gon izaver miļzeigs! Es tiuleņ nūmieršu nu smīklu! 😂😂😂
@agniezska: Verīs, es izaveru kai panda – maņ nūteciejuse skrūpstu tuša nu smīšonuos. 😃

@lieneliene: Oh yes, undeniably huge! I'm going to die from laughing in a moment. 😂😂😂
@agniezska: Look, I look like a panda – I've laughed so much my mascara is running. 😃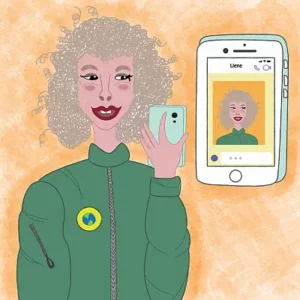 @lieneliene: Tev ir cīši skaistys acs! 😊
@agniezska: Paļdis! 😊 Nu taidu vuordu es drupeit apjuku. 😊

@lieneliene: You have very beautiful eyes. 😊
@agniezska: Thank you! I feel embarrassed. 😊
Vysys nūdalis / All chapters