Latgalian for beginners / Latgalīšu volūda suociejim

Gundega stuosta Viktoram i Inarai, ka Poznaņā īsapazyna ar Agnešku.
– Agneškai cīši pateik roks, – soka Gundega. – Jei mani aicynoj iz Sovvaļnīka koncertu Rēzeknē. Varbyut mes varātu dūtīs iz koncertu vysi kūpā i apvīnuot tū ar Latgolys ceļuojumu?
– Maņ ruodīs, tei ir breineiga dūma, – soka Viktors.
– Piec tuo mes varātu nūbraukt iz munu dzymtū sātu, kur dzeivoj muns bruoļs, – pīduovoj Inara.
– Vai jius nabyutu preteimā, ka mums leidza brauktu ari Agneška? – vaicoj Gundega. – Jei kotrā ziņā prīcuosīs īpazeit Latgolys kulturu i dzierdēt latgalīšu volūdu kotru dīnu.
– Zynoms, vysi asat laipni aicynuoti, – soka Inara.
– Niu mums juonūpierk beleti iz koncertu, – soka Viktors i attaisa datorā "GORA" interneta vītni. Viktors registrejās sistemā i nūpierk treis beletus.
Gundega roksta Agneškai viesti.

Gundega tells Viktor and Ināra about getting to know Agnieszka in Poznań.
'Agnieszka really likes rap music', Gundega says. 'She invited me to a Sovvaļnīks concert in Rēzekne. Maybe we could all go to the concert together, and combine that with our trip around Latgale?'
'I think that's a brilliant idea,' says Viktor.
'After that, we could go to my childhood home, where my brother lives,' suggests Ināra.
'Would you mind if Agnieszka came along with us?' asks Gundega. 'She would definitely be glad to get to know the culture of Latgale and to hear Latgalian being used in everyday life.'
'Of course, everyone is warmly invited to join,' says Ināra.
'So now we have to buy tickets to the concert,' says Viktor, and on his computer he goes to the GORS website. Viktor registers on the system and purchases three tickets.
Gundega writes Agnieszka a message.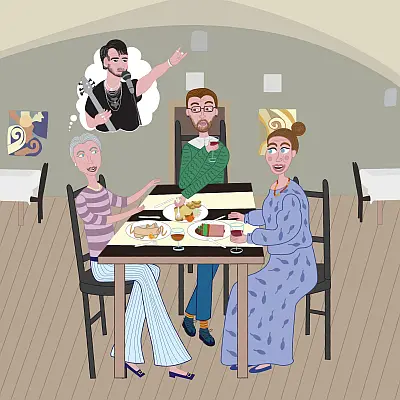 Vysys nūdalis / All chapters