Latgalian for beginners / Latgalīšu volūda suociejim
Seneja draudzine / An old friend

Odums puorskaita Viktora viestuli i īt gostūs pi babenis.
– Babeņ, muns draugs Viktors nu Latgolys prosa nūskaidruot, voi tu pazeisti Jākubu i Sarmeiti Pūrmaļus?
– Pūrmali… Dīvamžāļ napīmiņu itaidys pavuordis, – soka Oduma babeņa Paulina. – Kas jī beja?
– Viktora sīvys babys bruoļs i juo sīva. Jī, taipat kai tova saime, kara laikā devēs iz Ameriku, – Odums paskaidroj. – Viktors roksta, ka Jākubam i Sarmeitei beja meita Māreite.
– Māreite? Maņ beja draudzine Māreite dīpeišu nūmetnē, – babeņa soka. – Varbyut tei ir jei?
– Varbyut! Voi tev ir juos adrese?
– Nui, ir! Mes vys vēļ syutom vīna ūtrai kartenis iz Zīmyssvātku!
– Cik breineigi! – Odums ir sajiusmā. Jis nūroksta adresi.
– Storp cytu, es braukšu iz Latgolu! – Jis nūbučoj babu iz byuda i skrīn paceli.
– Ak, jauneiba…, – siermuo babeņa nūsmaida.

Odums reads Viktor's letter and goes to visit his granny.
'Gran, my friend Viktor from Latgale wants to find out if you know Jēkabs and Sarmīte Pūrmalis.' Odums asks Granny.
'Pūrmalis… Unfortunately I don't remember that name,' says Odums' granny, Paulīne.
'Who were they?'
'Viktor's wife's grandmother's brother and his wife. During the war they went to America, just like your family,' Odums explains. 'Viktor wrote that Jēkabs and Sarmīte had a daughter, Mārīte.'
'Mārīte? I had a friend called Mārīte at the DP camp,' Granny says. 'Perhaps that was her?'
'Perhaps! Do you have her address?'
'Yes, I do! We still send each other cards at Christmas!'
'How wonderful!' Odums is delighted. He copies down the address.
'By the way, I'm going to go to Latgale!' Odums kisses his grandmother on the cheek and is off.
'Ah, youth…' grey-haired Granny smiles.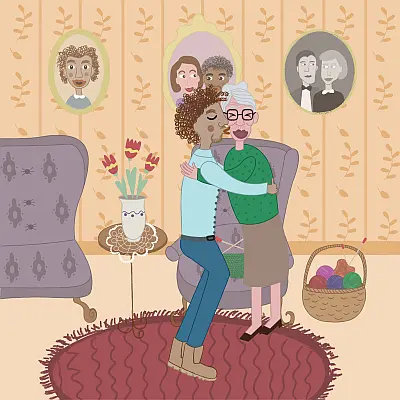 Vysys nūdalis / All chapters